MBIS MBISS MBPIS GCH Lyricisle's Kiss Me Kate CD CGN
Am Ch Jade Mist Beyond Tradition ROM ROMC

x

Ch Lyricisle's Viva Las Vegas CD ROMC
Aug 4, 1996 - Dec 22, 2010
From the moment she was born we knew our Katie
would be

Special

. One of a litter of four ... we
knew in a second we could never part with her.
Katie was the

Top Sheltie Puppy in Canada for
1997

... winning multi BPIS and Group placements,
while gaining her Championship as a baby.
Her adult career
was
outstanding,
always placing
in the top
shelties in the country.
She was an excellent dam and although she
only had two litters, she was able to pass on
some of her most sought after qualities to
her offspring who have been used in ours
and others breeding programs.
Katie

was a

"Once In A Lifetime Dog"

who made our hearts sing.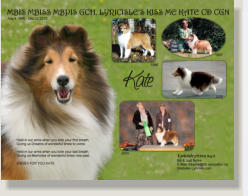 BIS CH Lyricisle's Pretty Woman
Am Ch Ozark Crest City Slicker ROM ROMC
x
Ch Lyricisle's Cover Girl
1996 - 2011
Claire

was always a favorite and thought by
many to be one of our prettiest girls. She was
the

number

2 sheltie in Canada for 1999

and
also the

number one female and top sheltie
owned by a CSSA member that year

.
Born in a litter of five ... she showed lots of
promise early on and ended up staying with us
for her entire life. She had three champion
offspring and was lots of fun in the show ring.
Claire ... jokingly known as

"Shut Up Claire"

to
our friends, was a wonderful asset to our breeding program and a joy to live
with.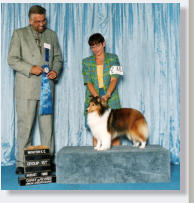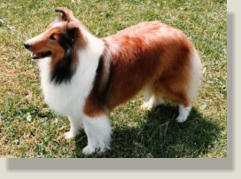 CH Pencairn's Starsong To Rowanglen CD
Ch Delamantha's Daybreak

x

Rowanglen's Star Dust CD
1982 - 1997
Piper

was our foundation bitch, a multi
group winner, and champion producer.
She appears in almost every Lyricisle
pedigree.
We owe everything to this
gorgeous girl who brought with
her and passed on to generation
after generation of Lyricisle
shelties a legacy of quality.
Piper lived her entire life with us and shared our bedroom and our hearts
... Her joy of life was evident every time she was in the back yard running
and playing with everyone right up to the end.
"we miss you dearly Piper"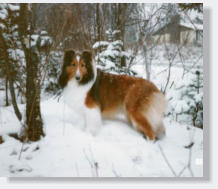 MBIS BISS MBPIS CH Lyricisle's Penny Candy
Ch Sheldon Banner Boy

x

Ch Pencairn's Starsong To Rowanglen CD
1984 - 1996
Penny

fulfilled our wildest dreams,
becoming our first home bred
champion. Winning a Working Group
1st at 8 months, Multi Best In Shows,
Herding Group 1st at the 1991
Maritime Spectacular, and a BISS from
the Veteran's class at 8 years of age.
Dam of 3 champions including two amazing daughters
Amy

and

Peaches

... one outstanding in the Show
Ring and the other in the Whelping Box.
Penny, pictured with three of her beautiful daughters
winning a Specialty Brood Bitch Class is included.
Penny will always have a special place in our
hearts.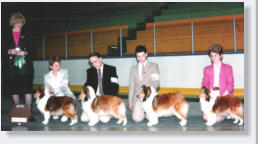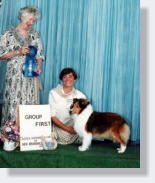 MBIS MBISS BPIS CH Lyricisle's The Sequel
Ch Lyricisle's John Cabot

x

Ch Lyricisle's Penny Candy
1987 - 2002
Amy

a double Piper granddaughter, was a joy to
have in our lives. Her show career was very
successful ... winning multi BIS, BPIS, and BISS.
She was also the dam of champions.
Not only was she a huge
presence in the show ring
but in our hearts and in
our bedroom where she
slept and for almost 16 years we had her with us.
Her quality and joy of life could only be fully
appreciated by watching her in the show ring and in
our back yard.
You were a sweetie Amy :)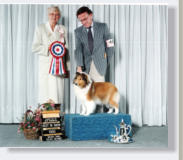 BPIS CH Lyricisle's John Cabot
Am/Can Ch Rorralore's Sportin' Chance CD ROM ROMC

x
Ch Pencairn's Starsong To Rowanglen CD
1986 - 2002
Cabot

was a sire of Champions. His quality packed pedigree made it possible for
him to pass on wonderful virtues to his offspring. Bred to his half sister Penny, we
got Amy and Peaches.
Cabot also had a great show career winning BPIS and Multi Group 1st as well as
other group placements. We had Cabot for 16 years and he was one of the last
surviving Chance sons. He can also be found in most Lyricisle pedigrees.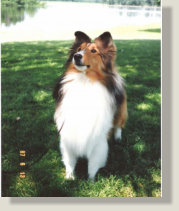 MBPIG CH Lyricisle's Cover Girl
Am/Can Ch Winslow Summit Raise A Ruckus

x

Ch Lyricisle's Fatal Attraction
1991 - 2005
When

Brinkley

was born we were captured by her
immediately.
She had a wonderful puppy career as the judges
couldn't resist this adorable puppy and was NBKC
Puppy Of The Year in 1991.
She was an excellent mother and eventually became
"Nanny" to all the new puppies at Lyricisle as well as
our grand children. She produced two outstanding
daughters Claire and Vegas. In the twilight of her life
she continued to look after new babies teaching them
all the things a Nanny should.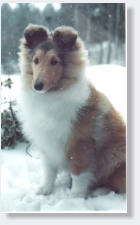 CH Lyricisle's Fatal Attraction
Ch Lyricisle's John Cabot

x

Ch Lyricisle's Penny Candy
1987 - 1999
Peaches

, Amy's litter sister hated the
whole show scene although she finished
her Championship very quickly.
Peaches was our producer giving us
many beautiful puppies and champions.
Through her, most of our dogs are
related to Piper, our foundation bitch.
A picture of Peaches is included with her
dam Penny and her sister, Amy.
Peaches had two outstanding daughters… Brinkley and Patti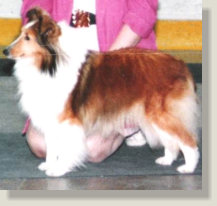 BPISS CH Lyricisle's Peppermint Patti
Am/Can Ch Cimmaron La Quest Marked Card

x

Ch Lyricisle's Fatal Attraction
1995 - 2008
Patti

was a beautiful puppy ... finishing her
Championship with a
Group 1st.
She is Peaches' last
daughter and we
were happy with
what she brought to
our breeding
program.
Patti had such a sweet face and temperament
that we found a special joy in looking at her every
day.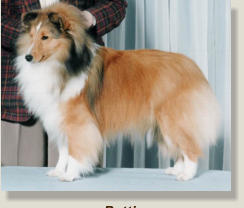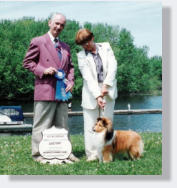 Genson's Journey To Lyricisle CD
Ch Shelando Top Scotch

x

Sheldon Genson Smile & Chuckle
1983 - 1995
Journey

was one of our first shelties and our
daughter Kelly's constant companion ... Kelly did
all the training and put an obedience CD on her.
Journey had a great life here and enjoyed
everything except the sound of a lawn mower
starting ... this would put her into a protective
mode in which she felt she must attack and
destroy the mower before it got us ...





CH Lyricisle's Witchy Woman
Am/Can Ch Legends Scenario ROM

x

Ch Lyricisle's Butterfly Kisses
2001 - 2015
Salem

was a valuable asset to our breeding program and a welcome addition
to our home.
She is Katie's granddaughter ... she finished her Championship while totally out
of coat and in the pouring rain ...
During her 14 years with us ... she was always an easy friend to have around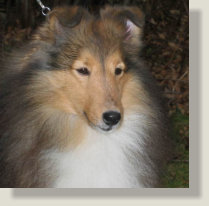 MBPIG CH Lyricisle's Bardot
Am/Can Ch Cindahope Trade Mark ROMC

x

Ch Lyricisle's Witchy Woman
2004 - 2015
B

ridget

picked up the best from both her parents and she finished her
Championship with wonderful puppy wins, including a Group 4th from the
classes and multiple BPIG wins.
We all miss you Bridget ...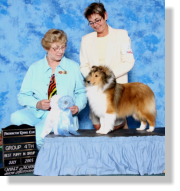 CH Lyricisle's Shut Up And Kiss Me
Am/Can Ch Legends Gotta Hava Java

x

Ch Lyricisle's Pretty Woman
2004 - 2016
Macey

was a very special girl... she broke her leg
at four months and couldn't be on it at all for 3
weeks. During that time we carried her everywhere
and she moved into our hearts forever.
She has a beautiful pedigree that proved to be of
great benefit to our breeding program. She finished
her championship at two with three 4 point BW.
She is the Dam of our MBPIS Ch Lyricisle's Ruby
Red Dress and MBPIS Ch Lyricisle's Street Smart.
She was Nanny to all new litters and spent the last several years sleeping at the
foot of our bed.
Macey's

absence is very hard to get used to ... we are very grateful for having
our time with her ...